Who needs an oven with these cute no-bake cake and cookie pop ideas?
COOKIE POPS
Oreos
are perfect for making no-bake cookie pops. Use double stuffed Oreos-- regular lollipop sticks are too fat for the regular ones. Second, use a fork to lift the Oreo pop out of the chocolate. If you use the stick, the pop will break. Let the excess chocolate drip off before placing on the waxed paper. Add decoration. Let harden. Fun stuff!
I dipped the petals in colored sugar for embellishment.
Mini Oreo
kebabs are also fun to make. You may want to decorate yours to look like the little snow men in the picture at the top of my post. Find out how at "
Edible Crafts by Craft Gossip"
But why stop at mini kebabs? Why not make big Oreo kebabs stacked on 10 inch
bamboo skewers?
If you use skewers, clip off the tips with scissors or tin snips.
Other no-bake cookie pops
Filling
You can sandwich any two identical store-bought cookies together using this sandwich cookie filling recipe based on
Martha Stewart's Cookie Sandwich Filling
.
2 cups powdered sugar
1/4 cup milk (you may add two drops of any flavored extract you would like to the milk before adding in the sugar.)
Mix
I also discovered a quicker, more effective filling for sandwich cookies on a stick--marshmallows! Take two of any store bought cookie you'd like--I used two little gingerbread men. Cut a big marshmallow in half, or use a few mini marshmallows. Put the marshmallow(s) on the top of one cookie. Cook in microwave till marshmallow puffs. Remove and place the stick in the marshmallow and then top with the other cookie. Quick, sturdy, and yummy!
Here are my gingerbread man sandwiches with marshmallow filling, sprinkled with cinnamon.
Be sure to check out the bottom of this post for dipping, decorating and packaging ideas.
CAKE POPS
Why go to all the trouble of cooking, crumbling, and smooshing a cake with frosting when you can just stick donut holes on a stick? Dip the stick into melted white or brown chocolate first before inserting it almost all the way through the donut hole. Let the chocolate harden. This will keep the stick firmly in the donut hole. Now dip and decorate.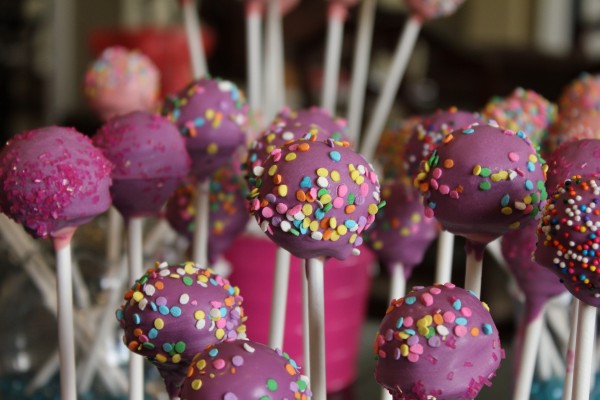 Here are doughnut hole cake pops from
"Cooking With Sugar"
I dipped my cake pops in melted white chocolate and crushed candy canes.
Be sure to check out the bottom of this post for dipping, decorating and packaging ideas.
MARSHMALLOW POPS
Haven't had enough yet? How about marshmallow pops from
The Seven Year Cottage
. Remember to dip the sticks in melted white or brown chocolate before inserting in the mallows.
Be sure to check out the bottom of this post for dipping, decorating and packaging ideas.
Yep, just buy brownie bites from Costco or wherever you shop, dip a stick in melted white or brown chocolate, and stick it into the side. Now you've got a brownie pop ready for dipping and decorating.
Sorry, I couldn't find a no-bake brownie pop on the web to show you a pict. Maybe it doesn't work. No promises.
Be sure to check out the bottom of this post for dipping, decorating and packaging ideas.
Remember that anything you can make into a pop, you can make into a kebab by stacking them on a skewer. A variety of pops makes a cute gift for a family. A kebab makes a great gift for an individual. Try these sparkly rainbow kebobs by
The Decorated Cookie Blog
They sugared the marshmallows first by skewering one and dipping it first quickly in and out of water and then in candy sugar. They say you can also use sprinkles. Do this to all your marshmallows. Let dry several hours. Stack on skewers. Cute!
DIPPING
Dip your pops in
white chocolate
,
dipping chocolate
, or my
hard-drying sugar cookie glaze.
The glaze is hard enough not to smear when you cover the pop, but soft enough to enjoy eating. You can add any color and flavored extract to the glaze that you would like.
DECORATING
After that come the embellishments. While the dipped cookie is still wet, decorate with
candy sprinkles
, crushed candy cane, or my
marshmallow flowers
(make them pink with yellow candy sprinkles in the middle for poinsettias).
PACKAGING
If you made kebabs, buy
cellophane bags
, insert your kebob in the bag, and tie with ribbon. To cover pops, buy those little
lollipop bags
, insert the pop, and tie a ribbon. If you are making a pop bouquet, use a cute container like little mason jars or small yogurt containers filled with red hots. If your container is heavy enough not to need something inside to weigh it down, try this idea from
Land o Lakes
to separate your pops in the container.
They wedged plastic canvas in the container to separate the pops. Once your pops are inserted, cover the canvas with curled ribbon, scrunched tissue paper or whatever.
Or just lay them on a plate!
Have fun creating your own custom made no-bake treats!